Valentine's Day Jumper
I finished this up this morning for Mushie Face to wear for Valentine's Day. It's a deep red-violet corduroy with a cotton print I thought coordinated really well. I did dragonfly appliques on the back (we're not big heart people). When I tried it on her, she ran away giggling and rubbing her belly. I think she likes he texture of the cord, LOL.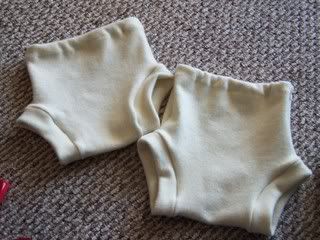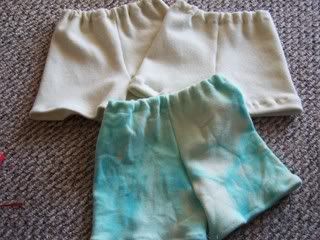 I've also been working more on her spring/ summer wardrobe and added these wool interlock covers. I drafted the pull on cover myself referencing a couple of pics of some covers I'd seen. They fit her well, I just need to tweak the pattern a little. They also need to be dyed, but I need to get some acid dyes so I can get really good colors. I drafted the shorts pattern using some store bought knit shorts that fit her. The dyed shorts were done w/ kool-aid just to get a feel for dying the interlock.